IT-Web & Software Developer
Associate of Applied Science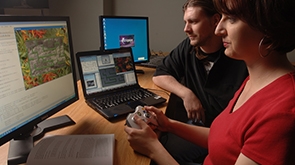 This program is an introduction to the broad field of business information systems and computer programming. Classes in Visual Basic and Role Playing Games (RPG) emphasize business applications, and the programming emphasis is on Visual Studio.Net, Java, RPG IV, and data access through Structured Query Language (SQL). Web development is a recurring theme in many of the classes. This degree opens the door to a number of jobs, including web developer, application programmer, business systems analyst, and operations personnel.
The program requires extensive work in the computer lab, and all students must complete an internship off-site in order to graduate.
You'll be required to have basic computer skills and experience in word processing, file handling, and spreadsheets to be admitted to this program. You'll also need to be a good listener, an excellent reader, and have an understanding of high school algebra.
IT-Web & Software Developer 2015-2016 Graduation Employment Stats
| | |
| --- | --- |
| Graduates | 14 |
| Graduates Responding | 6 |
| Employed in Related Occupation | 4 |
| Employed in Non-related Occupations | 2 |
| Seeking Employment | 0 |
| Continuing Education | 0 |
| Not in Labor Market | 0 |
Salary Data - Related Employment
| | Part Time | Full Time |
| --- | --- | --- |
| Responding | 0 | 0 |
| Average Hours Per Week | | |
| Median Hourly Wage | | |
| Hourly Wage Range | | |
| Median Annual Salary | | |
Respondents in Related Occupations
Development Team; Kwik Trip, La Crosse, WI
IT-Software Developer/Analyst; City of La Crosse, La Crosse, WI
Programmer; Hal Leonard Corporation, Winona, MN
Career Opportunities
Application Developer
Application Tester
Computer Programmer/Analyst
Database Administrator
Information Systems Analyst
Program Outcomes
Use effective communication skills
Apply mathematical concepts
Transfer social and natural science theories into practical applications
Demonstrate ability to think critically
Demonstrate ability to value self and work ethically with others in a diverse population
Use technology effectively
Make decisions that incorporate the importance of sustainability
Admission Requirements:
College Requirements
Courses
The following list is not the official course list for this program. It is intended to give students an idea of what coursework will be required.
Current students should use the MyWestern [1] self-service portal when registering for class.
First Term
Introduction to Information Technology
Second Term
Software Appl for Business
Third Term
Database Development with .NET
Fourth Term
Intro to Ethics: Theory & App
Mobile Applications Development
Fifth Term
Advanced Topics in Programming
Psychology of Human Relations
Web Development with ASP.Net