Medical Administrative Professional
Associate of Applied Science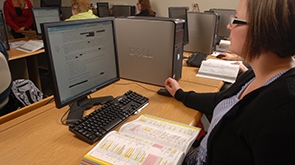 Do you have a talent for keeping projects and information organized? As a medical administrative professional, you would play a big role in keeping a medical office operating smoothly and efficiently. This program prepares you to supervise primary business-related tasks including scheduling appointments, registering patients, answering telephones, medical billing and completing insurance claims, preparing business correspondence, transcribing dictation, and maintaining medical records.
There are many career opportunities in hospitals, clinics (medical, vision, chiropractic, and dental), insurance companies, rehabilitation facilities, and skilled nursing facilities.
Courses are offered in a convenient online format.
Medical Administrative Professional 2017-2018 Graduation Employment Stats
| | |
| --- | --- |
| Graduates | 7 |
| Graduates Responding | 4 |
| Employed in Related Occupation | 3 |
| Employed in Non-related Occupations | 1 |
| Seeking Employment | 0 |
| Continuing Education | 0 |
| Not in Labor Market | 0 |
Salary Data - Related Employment
| | Part Time | Full Time |
| --- | --- | --- |
| Responding | 0 | 0 |
| Average Hours Per Week | | |
| Median Hourly Wage | | |
| Hourly Wage Range | | |
| Median Annual Salary | | |
Respondents in Related Occupations
No occupations reported.
Career Opportunities
Medical Administrative Assistant
Medical Administrative Specialist
Medical Office Coordinator
Medical Office Worker
Medical Secretary
Unit Secretary
Medical Service Coordinator
Medical Transcriptionist
Medical Receptionist
Program Outcomes
Living responsibly
Refining professionalism
Cultivating passion
Perform financial practices through analysis of payer data and reimbursement methods
Demonstrate professionalism in a healthcare setting
Apply technology to administrative functions in a healthcare-related setting
Apply HIPAA, federal and state law, and regulatory compliance in business health practices
Use medical terminology and knowledge of the human body systems in performing essential functions of health business environment
Admission Requirements:
College Requirements
Career Pathways:
Medical Administrative Professional
Prior Learning:
Previous education and work experience could qualify for Credit for Prior Learning, saving you time and money. Find out more [1] about what may apply to this program.
Technical Diploma:
Health Office Professional
Associate Degree:
Medical Administrative Professional
Courses
The following list is not the official course list for this program. It is intended to give students an idea of what coursework will be required.
Current students should use the MyWestern [2] self-service portal when registering for class.
First Term
Business Communication Skills
Personal and Professional Development
Second Term
Body Structure and Function
Intro to MS Excel and Access
Third Term
Advanced Word & Desktop Publ
Fourth Term
Admin & Org of Health Care
Fifth Term
Field Study-Medical Admin Prof
Introduction to Diversity Studies