Mechanical Design Technology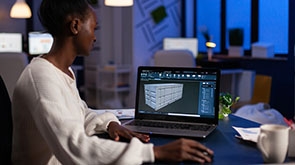 Would you like to be part of a team that develops new products and designs solutions to technical problems? Using the mathematical and scientific problem-solving techniques you learn in this program, you could work with engineers to create new, more reliable, more sophisticated products, in less time.
You will create 3D CAD (Computer Aided Design) models of parts and assemblies to meet design requirements; produce working drawings that include dimensions, technical details, and materials to be used; evaluate materials and processes; produce engineering documentation; use CAD models for strength and motion analysis, machining and rapid prototyping; and develop organizational skills to keep projects on track.
There are many career opportunities for mechanical design technicians in research and development, manufacturing, sales, construction, inspection, and maintenance.
Career Opportunities
Mechanical Designer
CAD Designer
Engineering Technician
Mechanical /Product Designer
Drafter
Design Engineer
Program Outcomes
Living responsibly
Refining professionalism
Cultivating passion
Prepare detail and assembly drawings for documentation of mechanical components and products
Create CAD geometry, parts, and assemblies
Design mechanical components and products
Analyze mechanic engineering problems
Select purchase parts
Produce and revise supporting engineering documentation
Evaluate manufacturing processes and materials for product development
Demonstrate awareness of product liability and industry standards
Meet design and production deadlines
Interpret and communicate technical concepts, designs, and documentation
Admission Requirements:
College Requirements
Software and Technology
Most of Western's classes require the use of a personal computer or laptop, standard software, internet access, and other technology-related items.
If you do not have a personal computer or laptop, or if the one you have does not meet the following criteria, resources may be available. Submit a Student Resource Request using our online form [1].
Computer/Laptop Hardware
Smartphones are not recommended for completing assignments.
Chromebooks are not recommended due to issues with installing software that is needed for classes, such as Office 365.
Web camera with microphone (usually built into newer laptops or can be purchased separately) is necessary for online participation.
Software Needs
For detailed specifications, please review Technology and Software Recommendations for Most Classes [3] on Western's IT Knowledgebase.
Campus Resources
Need Assistance?
Contact the Learning Commons

[7]

! The staff are happy to answer questions, provide individualized assistance, and direct you to other supports as needed.
Courses
The following list is not the official course list for this program. It is intended to give students an idea of what coursework will be required.
Current students should use the MyWestern [8] self-service portal when registering for class.
First Term
Geometric Dim & Tolerance
Sketching & AutoCAD Level 1
Sketching & AutoCAD Level 2
Second Term
College Technical Math 1A
Fund Of Elecs&Fabrication
Mfg Processes/Machining CAM
Third Term
Statics/Strength Of Materials