Manufacturing Systems Maintenance Technician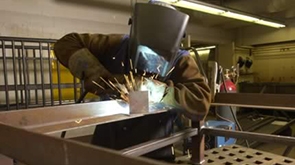 For the person who likes variety and has an interest in how machines work, a position as an industrial maintenance technician may be a satisfying career choice.
As a technician, you can work in a manufacturing facility to repair, modify, and maintain machines and components. Some of the skills you will develop in this program include machining, CNC (Computer Numerical Controls), motor controls, PLCs (Programmable Logic Controllers), basic welding, and HVACR (Heating, Ventilation, Air Conditioning, and Refrigeration).
The program provides a pathway to technical diplomas in Industrial Electrical/Mechanical Maintenance; Air Conditioning, Heating and Refrigeration; Basic Welding; or Basic Machining, all of which are components of the five-term Manufacturing Systems Maintenance technical diploma.
*Please note that the delivery method for fall courses may change as the COVID-19 situation unfolds. Our goal is to ensure that teaching and learning happens in a safe environment. We will communicate updates as quickly as possible.
Manufacturing Systems Maintenance Technician 2019-2020 Graduation Employment Stats
| | |
| --- | --- |
| Graduates | 4 |
| Graduates Responding | 1 |
| Employed in Related Occupation | 1 |
| Employed in Non-related Occupations | 0 |
| Seeking Employment | 0 |
| Continuing Education | 0 |
| Not in Labor Market | 0 |
Salary Data - Related Employment
| | Part Time | Full Time |
| --- | --- | --- |
| Responding | 0 | 1 |
| Average Hours Per Week | | |
| Median Hourly Wage | | |
| Hourly Wage Range | | |
| Median Annual Salary | | |
Respondents in Related Occupations
No occupations reported.
Career Opportunities
Field Service Technician
Welder
Maintenance Mechanic
Machinist
Program Outcomes
Living responsibly
Refining professionalism
Cultivating passion
Interpret industrial/engineering drawings
Apply precision measuring for production and inspection
Apply industrial safety standards
Demonstrate conceptual knowledge of HVACR systems
Analyze a closed loop control system
Analyze LEAN methods in manufacturing
Apply effective customer service practices
Maintain industrial systems
Admission Requirements:
College Requirements
Career Pathways:
Manufacturing Systems Maintenance Technician
Prior Learning:
Previous education and work experience could qualify for Credit for Prior Learning, saving you time and money. Find out more [1] about what may apply to this program.
Technical Diploma:
Manufacturing Systems Maintenance Technician
Electromechanical Maintenance Technician
Basic Welding
Basic Machining
Industrial Machine Controls
Courses
The following list is not the official course list for this program. It is intended to give students an idea of what coursework will be required. Note: MSMT students are required to take 10462105 Pipefitters for Manufacturing Maintenance and 10462106 Plumbing for Manufacturing Maintenance in place of 10420105 Machining for Maintenance and 10442109 Welding for Maintenance.
Current students should use the MyWestern [2] self-service portal when registering for class.
First Term
HVACR Electric Motors & Ctrls
Lean Production Techniques and Systems
Second Term
Manual Torch Metal Cutting
Welding-Blueprint Reading 1
Welding-Oxy Fuel Metals Join
Third Term
Fundamentals of Machining
Machining Employment Prep
Measurement and Inspection
Fourth Term
Basic Industrial Controls
Basic PLC Programming with Digital
Fundamental Electrical Skills
Intro to Industrial Control Systems
Fifth Term
Intro to Industrial Internet of Things
Intro to Industrial Robotics
Pipefitting for Mfg. Maintenance