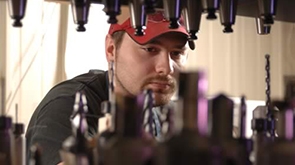 Combine your mechanical aptitude and attention to detail with computer-based design. As a machine tool operator, you will create precision-machined parts that are used in industrial applications from aerospace to consumer product manufacturing. You'll develop hands-on skills in computer aided drafting (CAD), computer aided manufacturing (CAM) software, and the machining equipment it controls. You'll be involved in every phase of part production, working from blueprints and CAD drawings, programming the equipment, machining the parts to exact specifications, and inspecting them to tolerances of 1/30th the diameter of a hair using precision instruments. Skilled machinists are in great demand for specialized tool-making operations and most types of manufacturing. Opportunities for career advancement grow with your experience.
Machine Tool Operation 2015-2016 Graduation Employment Stats
| | |
| --- | --- |
| Graduates | 8 |
| Graduates Responding | 6 |
| Employed in Related Occupation | 6 |
| Employed in Non-related Occupations | 0 |
| Seeking Employment | 0 |
| Continuing Education | 0 |
| Not in Labor Market | 0 |
Salary Data - Related Employment
| | Part Time | Full Time |
| --- | --- | --- |
| Responding | 0 | 0 |
| Average Hours Per Week | | |
| Median Hourly Wage | | |
| Hourly Wage Range | | |
| Median Annual Salary | | |
Respondents in Related Occupations
Machinist; Plymouth, MN
Machinist; Fastenal, Winona, MN
Career Opportunities
CNC Machine Operator
CNC Machinist
Manual Machinist
Injection Molding Techincian
Machine Tool Operator
Tool and Die Maker
Program Outcomes
Use effective communication skills
Apply mathematical concepts
Transfer social and natural science theories into practical applications
Demonstrate ability to think critically
Demonstrate ability to value self and work ethically with others in a diverse population
Use technology effectively
Make decisions that incorporate the importance of sustainability
MACH 1. Apply basic safety practices in the machine shop
MACH 2. Interpret industrial/engineering drawings
MACH 3. Apply precision measuring methods to part inspection
MACH 4. Perform basic machine tool equipment set-up and operation
MACH 5. Perform programming, set-up and operation of CNC Machine Tools
Admission Requirements:
College Requirements
Career Pathways:
Prior Learning:
Previous education and work experience could qualify for Credit for Prior Learning, saving you time and money. Find out more [1] about what may apply to this program.
Technical Diploma:
Machine Tool Operation
Basic Machining
Courses
The following list is not the official course list for this program. It is intended to give students an idea of what coursework will be required.
Current students should use the MyWestern [2] self-service portal when registering for class.
First Term
CNC Production Lathe-Operation
CNC Production Mill-Operation
Machining: Intro to Machining
Machining: Milling Processes
Machining: Turning Processes
Second Term
CNC Lathe Programming-Basic
CNC Mill Programming-Basic
CNC Setup Supportive Technologies
Solid Model Use for Manufacturing
Third Term
Machining: Surface Grinding Processes