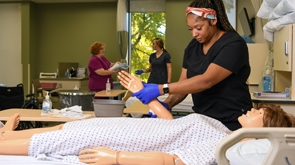 Not Financial Aid Eligible
Turn your interest in helping people into a meaningful career. As a nursing assistant, you will directly provide care to patients in hospital, long-term care, or adult day care settings. The program includes a combination of classroom and laboratory activities and hands-on clinical experience in a long-term care facility. You will receive training in communication skills, both oral and written, personal care, basic nursing skills, assisting people in maintaining independence, promoting rehabilitation, and caring for those with Alzheimer's disease and related dementias.
The program is approved by the Wisconsin Department of Health and Family Services as a Nursing Assistant Training program. Students are required by the Wisconsin Department of Health Services to take the Nursing Assistant Registry Exam if they desire employment in a federally-funded health care facility (one that accepts Medicare and Medicaid patients).
To view the Nursing Assistant program's required disclosure on professional licensure, please click here [1].
Nursing Assistant 2019-2020 Graduation Employment Stats
| | |
| --- | --- |
| Graduates | 344 |
| Graduates Responding | 126 |
| Employed in Related Occupation | 16 |
| Employed in Non-related Occupations | 19 |
| Seeking Employment | 1 |
| Continuing Education | 90 |
| Not in Labor Market | 90 |
Salary Data - Related Employment
| | Part Time | Full Time |
| --- | --- | --- |
| Responding | 7 | 9 |
| Average Hours Per Week | 24 | 37 |
| Median Hourly Wage | $16.70 | $16.00 |
| Hourly Wage Range | $11.00-$16.73 | $12.00-$18.00 |
| Median Annual Salary | $20,835 | $31,822 |
Respondents in Related Occupations
Hospice CNA (2), Patient Attendant, CNA (6), Preoperative Technician, Resident Caregiver-CNA, Home Help Assistant,
Career Opportunities
Nurse Aide - C.N.A.
Home Health Aide
Certified Nursing Assistant
Personnel Care Worker
Patient Care Associate
Program Outcomes
Living responsibly
Refining professionalism
Cultivating passion
Communicate and interact effectively with clients, family, and co-workers
Maintain and protect client rights
Report information and record observations
Demonstrate the ethical and legal responsibilities of the NA/HHA
Provide safe care to a diverse population, meeting personal, physical and psychosocial client needs
Assist with client rehabilitation and restorative care, promoting independence
Assist clients with long-term, disabling conditions including dementia, always focusing on the strengths of the client
Work cooperatively in a team environment
Eligible to take the WI NA Competency evaluation
Career Pathways:
Prior Learning:
Previous education and work experience could qualify for Credit for Prior Learning, saving you time and money. Find out more [19] about what may apply to this program.
Courses
The following list is not the official course list for this program. It is intended to give students an idea of what coursework will be required.
Current students should use the MyWestern [20] self-service portal when registering for class.* 
* To register for Nursing Assistant, use course number 30543200 [21] (2 credits).