Associate of Applied Science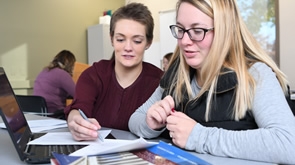 An exciting and challenging career awaits you in a growing field. As a paralegal, you will be involved in all facets of the law while working under the direction of a licensed attorney. A successful paralegal is a good communicator, enjoys working with diverse populations, pays attention to details, is a strong problem solver, and is ethical.
This program is an ABA (American Bar Association) approved program. The current ABA definition of a Legal Assistant/Paralegal is as follows:
A legal assistant or paralegal is a person, qualified by education, training or work experience who is employed or retained by a lawyer, law office, corporation, governmental agency or other entity and who performs specifically delegated substantive legal work for which a lawyer is responsible.
This program covers all aspects of law: criminal, family, real estate, civil, and probate. Our graduates find employment in private practice, corporate legal departments, and government entities.
Core courses are offered in a traditional format during the day with some offered online and blended. General education classes are available in tradition and online formats.
Paralegals may not provide legal services directly to the public, except as permitted by law. 
Transfer Policy [1]
Paralegal 2016-2017 Graduation Employment Stats
| | |
| --- | --- |
| Graduates | 6 |
| Graduates Responding | 5 |
| Employed in Related Occupation | 4 |
| Employed in Non-related Occupations | 1 |
| Seeking Employment | 0 |
| Continuing Education | 0 |
| Not in Labor Market | 0 |
Salary Data - Related Employment
| | Part Time | Full Time |
| --- | --- | --- |
| Responding | 2 | 2 |
| Average Hours Per Week | 26 | 40 |
| Median Hourly Wage | $14.25 | $15.20 |
| Hourly Wage Range | $13.50 - $15.00 | $15.00 - $15.39 |
| Median Annual Salary | $19,266 | $31,599 |
Respondents in Related Occupations
Document Processor & Client Services; Stetzer Accounting Services, LLC, Trempealeau, WI
Paralegal; Arndt, Buswell & Thorn, S.C., Sparta, WI
Paralegal; Fastenal, Winona, MN
Paralegal; Ronald M. Fitzpatrick, S.C., La Crosse, WI
Career Opportunities
Paralegal
Legal Administrative Assistant
Court Clerk
Program Outcomes
Use effective communication skills
Apply mathematical concepts
Transfer social and natural science theories into practical applications
Demonstrate ability to think critically
Demonstrate ability to value self and work ethically with others in a diverse population
Use technology effectively
Make decisions that incorporate the importance of sustainability
Apply ethical principles in a legal environment.
Process legal documents.
Perform legal research.
Apply critical thinking skills to address legal issues.
Demonstrate professionalism in a legal environment.
Admission Requirements:
College Requirements
Accreditation
The Paralegal program is an approved program by the American Bar Association (ABA (http://www.americanbar.org/aba.html [2]) ), 321 North Clark St. - 19.1, Chicago, IL 60654-7598, telephone 312-988-5617.
Courses
The following list is not the official course list for this program. It is intended to give students an idea of what coursework will be required.
Current students should use the MyWestern [3] self-service portal when registering for class.
First Term
Intro to Paralegal & Ethics
Software Appl for Business
Second Term
Introduction to Accounting
Legal Aspects of Busn Orgs
Third Term
Computer Appl-Law Office Pers
Intro to Ethics: Theory & App
Fourth Term
Administration of Estates
Paralegal Internship/Field St