Digital Content Specialist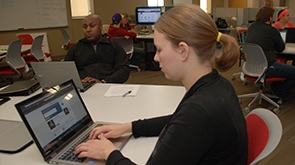 Not Financial Aid Eligible
If you're considering a career in marketing, an understanding of effective digital content is essential. This certificate program will provide an introduction to marketing principles, with an emphasis on developing quality content for various digital formats. You will also explore elements of promotional campaigns, including design basics, media buying, and the use of analytics to measure results.
The Digital Content Specialist program is an embedded credential within the Digital Marketing Specialist certificate and the Digital Marketing associate's degree.
The program is offered in several flexible delivery methods, including face-to-face one evening per week, at our La Crosse campus or our regional locations, or completely online.
Career Opportunities
Content Specialist
Content Coordinator
Social Media Specialist
Admission Requirements:
College Requirements
Software and Technology
Most of Western's classes require the use of a personal computer or laptop, standard software, internet access, and other technology-related items.
If you do not have a personal computer or laptop, or if the one you have does not meet the following criteria, resources may be available. Submit a Student Resource Request using our online form [1].
Computer/Laptop Hardware
Smartphones are not recommended for completing assignments.
Chromebooks are not recommended due to issues with installing software that is needed for classes, such as Office 365.
Web camera with microphone (usually built into newer laptops or can be purchased separately) is necessary for online participation.
Software Needs
For detailed specifications, please review Technology and Software Recommendations for Most Classes [3] on Western's IT Knowledgebase.
Campus Resources
Need Assistance?
Contact the Learning Commons

[7]

! The staff are happy to answer questions, provide individualized assistance, and direct you to other supports as needed.
Career Pathways:
Digital Content Specialist
Prior Learning:
Previous education and work experience could qualify for Credit for Prior Learning, saving you time and money. Find out more [8] about what may apply to this program.
Certificates:
Digital Content Specialist
Technical Diploma:
Digital Marketing Specialist
Courses
The following list is not the official course list for this program. It is intended to give students an idea of what coursework will be required.
Current students should use the MyWestern [9] self-service portal when registering for class.
First Term
Marketing Career Preparation
Software Appl for Business
Second Term
Digital Design Components