Associate of Applied Science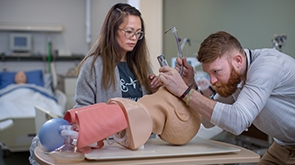 Illness, injury, premature birth, and chronic respiratory conditions can rob people of their ability to breathe. A respiratory therapist is the person on the healthcare team who is involved with evaluating, diagnosing, and treating breathing disorders.
You'll work closely with a physician to develop treatment plans to improve respiratory function, and will be responsible for monitoring the effectiveness of the treatment. Treatment could include delivery of inhaled medications, use of therapeutic or life support equipment, or a combination of therapies. Your role will also include patient and family education.
Instruction takes place in a traditional classroom format, alternating with a total of five clinical rotations in a hospital setting. General education courses are taught in traditional, online, and blended formats.
After graduation, students are required to pass an exam issued by the National Board for Respiratory Care in order to earn the designation of Certified Respiratory Therapist (CRT). After earning the CRT credential, graduates are eligible to apply for a license to practice respiratory care anywhere in the United States. They are also eligible to take the Clinical Simulation Examination to be designated a Registered Respiratory Therapist (RRT).
Respiratory Therapist 2016-2017 Graduation Employment Stats
| | |
| --- | --- |
| Graduates | 12 |
| Graduates Responding | 5 |
| Employed in Related Occupation | 5 |
| Employed in Non-related Occupations | 0 |
| Seeking Employment | 0 |
| Continuing Education | 0 |
| Not in Labor Market | 0 |
Salary Data - Related Employment
| | Part Time | Full Time |
| --- | --- | --- |
| Responding | 0 | 5 |
| Average Hours Per Week | | 43 |
| Median Hourly Wage | | $27.50 |
| Hourly Wage Range | | $25.64 - $29.61 |
| Median Annual Salary | | $51,476 |
Respondents in Related Occupations
Registered Respiratory Therapist; Mayo Clinic, Rochester, MN
Respiratory Therapist; Childrens MN Hospitals and Clinics, St Paul, MN
Respiratory Therapist; Mayo Clinic Health System, La Crosse, WI
Respiratory Therapist; Mayo Clinic, Rochester, MN
Respiratory Therapist; UW Health, Madison, WI
Career Opportunities
Respiratory Therapist
Respiratory Care Practitioner
Polysomnographic Technician
Program Outcomes
Use effective communication skills
Apply mathematical concepts
Transfer social and natural science theories into practical applications
Demonstrate ability to think critically
Demonstrate ability to value self and work ethically with others in a diverse population
Use technology effectively
Make decisions that incorporate the importance of sustainability
Apply advanced-level respiratory therapy concepts to patient care situations (KNOWLEDGE)
Demonstrate technical proficiency required to fulfill the role of an advanced-level RT (SKILLS)
Practice respiratory care according to established professional and ethical standards (BEHAVIORS)
Courses
The following list is not the official course list for this program. It is intended to give students an idea of what coursework will be required.
Current students should use the MyWestern [8] self-service portal when registering for class.
First Term
Intro to Diversity Studies
Second Term
Respiratory/Cardiac Physiology
Fourth Term
Respiratory Airway Management
Respiratory Therapeutics 1
Respiratory Therapeutics 2
Fifth Term
Respiratory Neo/Peds Care
Respiratory/Cardio Diagnostics