Associate of Applied Science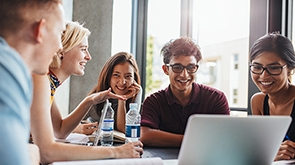 The success of an organization hinges on the quality of its leaders. The Leadership Development program prepares current and future leaders to excel in today's workplace. It will provide you with skills that make the greatest impact in your career and in your community.
Courses are led by experienced business professionals with proven success in leading initiatives in change management, quality improvement, communication, organizational communication and effectiveness, and human resource development.
The program is offered with flexible delivery methods, including online options, to suit your learning style and schedule. Embedded in this associate's degree, you will earn the Leadership Supervision Professional and Leadership Essentials technical diplomas.
*Please note that the delivery method for fall courses may change as the COVID-19 situation unfolds. Our goal is to ensure that teaching and learning happens in a safe environment. We will communicate updates as quickly as possible.
Leadership Development 2018-2019 Graduation Employment Stats
| | |
| --- | --- |
| Graduates | 22 |
| Graduates Responding | 8 |
| Employed in Related Occupation | 1 |
| Employed in Non-related Occupations | 1 |
| Seeking Employment | 0 |
| Continuing Education | 5 |
| Not in Labor Market | 6 |
Salary Data - Related Employment
| | Part Time | Full Time |
| --- | --- | --- |
| Responding | 0 | 0 |
| Average Hours Per Week | | |
| Median Hourly Wage | | |
| Hourly Wage Range | | |
| Median Annual Salary | | |
Respondents in Related Occupations
No occupations reported.
Career Opportunities
Manufacturing Manager/Supervisor
Office Manager
Operations Supervisor
Production Supervisor
Project Manager
Quality Assurance Technician
Store Manager
Program Outcomes
Living responsibly
Refining professionalism
Cultivating passion
Manage employees and participate in a team environment
Apply continuous improvement strategies to the supervision process
Manage processes and systems to maximize organizational productivity and quality
Ensure legal compliance to all laws regarding employer/employee relationships and safety
Evaluate employee performance
Facilitate change in an organization
Apply ethical standards to the workplace
Utilize quality strategies and tactics
Apply effective leadership skills
Apply Human Resource policies and procedures
Perform supervisory management functions to achieve organizational objectives
Admission Requirements:
College Requirements
Career Pathways:
Prior Learning:
Previous education and work experience could qualify for Credit for Prior Learning, saving you time and money. Find out more [1] about what may apply to this program.
Technical Diploma:
Leadership & Supervision Professional
Leadership Essentials
Courses
The following list is not the official course list for this program. It is intended to give students an idea of what coursework will be required.
Current students should use the MyWestern [2] self-service portal when registering for class.
First Term
Professional Development Strategies
Second Term
Personal Leadership Strategies
Software Appl for Business
Third Term
Team Building & Problem Slvng
Fourth Term
Legal Issues for the Workplace
Fifth Term
Human Resource Management
Sixth Term
Organizational Development