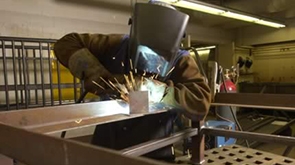 Skilled welders are in great demand, and the outlook for employment remains good in our region and nationwide as the manufacturing and construction industries continue to grow. With good math skills, attention to detail, and a preoccupation with quality, you could make welding a career.
Our program covers theory and practice in all types of welding: shielded metal arc, oxy-fuel, gas metal arc, and gas tungsten arc. You'll be schooled in the proper use of tools and equipment, safety, and blueprint reading as you practice welding joints in all positions and on all types of metals.
Heavy construction and manufacturing depend on skilled welders and offer excellent wages to those who are up to the challenge.
*Please note that the delivery method for fall courses may change as the COVID-19 situation unfolds. Our goal is to ensure that teaching and learning happens in a safe environment. We will communicate updates as quickly as possible.
Welding & Fabrication 2018-2019 Graduation Employment Stats
| | |
| --- | --- |
| Graduates | 22 |
| Graduates Responding | 3 |
| Employed in Related Occupation | 3 |
| Employed in Non-related Occupations | 0 |
| Seeking Employment | 0 |
| Continuing Education | 0 |
| Not in Labor Market | 0 |
Salary Data - Related Employment
| | Part Time | Full Time |
| --- | --- | --- |
| Responding | 0 | 3 |
| Average Hours Per Week | | |
| Median Hourly Wage | | |
| Hourly Wage Range | | |
| Median Annual Salary | | |
Respondents in Related Occupations
No occupations reported.
Career Opportunities
Welder
Production Welder
Fabrication Welder
Mig/Tig Welder
Metal Fabricator
Pipe Welder
Robotic Welder
Program Outcomes
Living responsibly
Refining professionalism
Cultivating passion
Demonstrate industry recognized safety practices
Interpret welding drawings
Produce shielded metal arc welds (SMAW)
Produce gas metal arc welds (GMAW)
Produce flux core welds
Produce gas tungsten arc welds (GTAW)
Perform thermal cutting
Admission Requirements:
College Requirements
Career Pathways:
Prior Learning:
Previous education and work experience could qualify for Credit for Prior Learning, saving you time and money. Find out more [1] about what may apply to this program.
Technical Diploma:
Welding & Fabrication
Basic Welding
Courses
The following list is not the official course list for this program. It is intended to give students an idea of what coursework will be required.
Current students should use the MyWestern [2] self-service portal when registering for class.
First Term
Welding-Blueprint Reading 1
Welding-Oxy Fuel Metals Join
Welding-Oxy-Fuel Metals Cutting
Second Term
Applied Communication Skills