Technical Diploma
Skilled welders are in great demand, and the outlook for employment remains good in our region and nationwide as the manufacturing and construction industries continue to grow. With good math skills, attention to detail, and a preoccupation with quality, you could make welding a career.
Our program covers theory and practice in all types of welding: shielded metal arc, oxy-fuel, gas metal arc, and gas tungsten arc. You'll be schooled in the proper use of tools and equipment, safety, and blueprint reading as you practice welding joints in all positions and on all types of metals.
Heavy construction and manufacturing depend on skilled welders and offer excellent wages to those who are up to the challenge.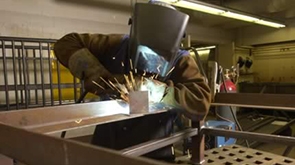 Welder
Production Welder
Fabrication Welder
Mig/Tig Welder
Metal Fabricator
Pipe Welder
Robotic Welder
Use effective communication skills
Apply mathematical concepts
Transfer social and natural science theories into practical applications
Demonstrate ability to think critically
Demonstrate ability to value self and work ethically with others in a diverse population
Use technology effectively
Make decisions that incorporate the importance of sustainability
Demonstrate industry recognized safety practices
Interpret welding drawings
Produce shielded metal arc welds (SMAW)
Produce gas metal arc welds (GMAW)
Produce flux core welds
Produce gas tungsten arc welds (GTAW)
Perform thermal cutting
College Requirements
High School Transcript or GED/HSED
Program Requirements
Western Technical College uses ACCUPLACER, a computer-based, online assessment that measures your abilities in writing/sentence skills, reading comprehension, and arithmetic. This information will be used to place you in courses that best fit your academic goals. Based on your scores, you may need to take additional general studies course(s) along with the general studies courses required for your program.
Several options for waiving the ACCUPLACER test are available; view the exemptions here.
Learn more about placement tests and how they are used at Western: Placement Testing.