Technical Diploma
Our Wood Tech program helps you build on your knowledge and develop your skills to prepare for employment in the fields of construction and cabinet making.
You'll study fundamentals of building design, site development, building layout operations, concrete applications, cabinet design and construction, and materials used in the construction and cabinet making industries. You'll be instructed in safe and proper use of hand tools, portable power tools, and stationary power equipment. In addition, you'll have the opportunity to apply framing, interior finishing, and exterior finishing techniques at actual jobsites, and work on commercial framing and finishing projects in the cabinet shop and framing lab. Related mathematics, blueprint reading, estimating, building science principles, and OSHA 10 are part of the training.
Graduates are ready for a variety of careers, including cabinetmaking, residential and commercial carpentry, general construction, working at building supply stores or lumberyards, and other positions in the construction industry.
Get started on program courses in the fall or choose a delayed summer start.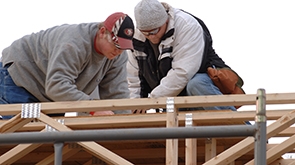 Carpenter
Cabinet Maker
Construction Crew/Foreman
Woodworker
Furniture Maker
Use effective communication skills
Apply mathematical concepts
Transfer social and natural science theories into practical applications
Demonstrate ability to think critically
Demonstrate ability to value self and work ethically with others in a diverse population
Use technology effectively
Make decisions that incorporate the importance of sustainability
Use hand and power tools and equipment
Apply industry recognized safety practices and procedures
Analyze sustainable building practices
Interpret construction drawings
Interpret building codes
Demonstrate industry building practices and material application
Calculate the cost of a project.
Recommend a plan of procedure to eliminate wasted time and materials
Demonstrate industry cabinetmaking practices and material application.
College Requirements
High School Transcript or GED/HSED
Program Requirements
Western Technical College uses ACCUPLACER, a computer-based, online assessment that measures your abilities in reading, sentence skills, and arithmetic. This information will be used to place you in courses that best fit your academic goals. Based on your scores, you may need to take additional general studies course(s) along with the general studies courses required for your program.
Several options for waiving the ACCUPLACER test are available; view the waivers here.
Learn more about placement tests and how they are used at Western: Placement Testing.