Associate of Applied Science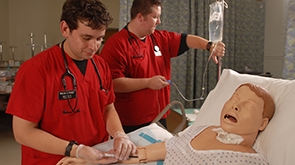 As a registered nurse (RN), you will be at the heart of a team dedicated to excellence in managing and delivering healthcare. This program provides the skills to integrate social, mathematical, and physical sciences, pharmacology, and pathophysiology into your clinical decision making. You will learn to communicate effectively, collaborate with others, and mobilize resources to promote, maintain, and restore health. Critical thinking and problem solving using the nursing process are emphasized, preparing you for a leadership role. The practice of nursing includes adherence to established professional standards—consistently demonstrating caring, respect, and cultural sensitivity. There is a strong demand for nurses, in a wide variety of care settings.
All registered nurses are required to take a national exam to obtain a license to practice. Compared with all programs nationwide, Western graduates have been consistently successful in passing the exam.
Nursing 2016-2017 Graduation Employment Stats
| | |
| --- | --- |
| Graduates | 93 |
| Graduates Responding | 62 |
| Employed in Related Occupation | 42 |
| Employed in Non-related Occupations | 0 |
| Seeking Employment | 0 |
| Continuing Education | 0 |
| Not in Labor Market | 19 |
Salary Data - Related Employment
| | Part Time | Full Time |
| --- | --- | --- |
| Responding | 15 | 21 |
| Average Hours Per Week | 29 | 37 |
| Median Hourly Wage | $30.00 | $28.50 |
| Hourly Wage Range | $28.00 - $37.00 | $23.50 - $33.00 |
| Median Annual Salary | $47,008 | $55,233 |
Respondents in Related Occupations
Emergency Department RN; Mission Health, Asheville, NC
Float Nurse; Gundersen Health System, Onalaska, WI
Nurse; Mayo Clinic, Rochester, MN
Pediatric - Neonatal Intensive Care Unit Nurse; Gundersen Health System, La Crosse, WI
RN; Benedictine Manor, La Crosse, WI
RN; Black River Memorial Hospital, Black River Falls, WI
RN; Children's Hospital of Wisconsin, Wauwatosa, WI
RN; Gundersen Health System, La Crosse, WI (14)
RN; Ho-Chunk Nation, Black River Falls, WI
RN; Marinuka Manor, Galesville, WI
RN; Mayo Clinic Health System, Eau Claire, WI
RN; Mayo Clinic Health System, La Crosse, WI (5)
RN; Mayo Clinic, Rochester, MN (2)
RN; Mile Bluff Medical Center, Mauston, WI
RN; Shands, Gainesville, FL
RN; VA Medical Center - Tomah, Tomah, WI
RN; Vernon Memorial Hospital, Viroqua, WI
Program Outcomes
Use effective communication skills
Apply mathematical concepts
Transfer social and natural science theories into practical applications
Demonstrate ability to think critically
Demonstrate ability to value self and work ethically with others in a diverse population
Use technology effectively
Make decisions that incorporate the importance of sustainability
Implement one's role as a nurse in ways that reflect integrity, responsibility, ethical practices, and an evolving professional identity as a nurse committed to evidence-based practice, caring, advocacy and quality care
Demonstrate appropriate written, verbal, and nonverbal communication in a variety of clinical contexts
Integrate social, mathematical, and physical sciences, pharmacology, and pathophysiology in clinical decision making
Provide patient centered care by utilizing the nursing process across diverse populations and health care settings
Minimize risk of harm to patients, members of the healthcare team and self through safe individual performance and participation in system effectiveness
Lead the multidisciplinary health care team to provide effective patient care throughout the lifespan
Use information and technology to communicate, manage data, mitigate error, and support decision-making
Career Pathways:
Prior Learning:
Previous education and work experience could qualify for Credit for Prior Learning, saving you time and money. Find out more [12] about what may apply to this program.
Courses
The following list is not the official course list for this program. It is intended to give students an idea of what coursework will be required.
Current students should use the MyWestern [13] self-service portal when registering for class.
First Term
Nsg: Intro Clinical Practice
Second Term
Nsg: Clin Care Across Lifespan
Nsg: Intro Clinical Care Mgt
Nursing Health Alterations
Third Term
Nsg: Complex Health Alterat 1
Nsg: Intermed Clin Practice
Nsg: Mental Health Comm Con
Fourth Term
Nsg: Adv Clinical Practice
Nsg: Complex Health Alterat 2
Nsg: Mgt & Profess Concepts
Nursing Clinical Transition