Certificate
Turn your interest in helping people into a meaningful career. As a nursing assistant, you will directly provide care to patients in hospital, long-term care, or adult day care settings. The program includes a combination of classroom and laboratory activities and hands-on clinical experience in a long-term care facility. You will receive training in communication skills, both oral and written, personal care, basic nursing skills, assisting people in maintaining independence, promoting rehabilitation, and caring for those with Alzheimer's disease and related dementias.
The program is approved by the Wisconsin Department of Health and Family Services as a Nursing Assistant Training program. Students are required by the Wisconsin Department of Health Services to take the Nursing Assistant Registry Exam if they desire employment in a federally-funded health care facility (one that accepts Medicare and Medicaid patients).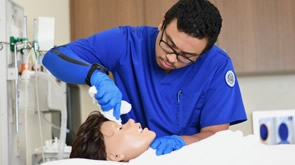 Nurse Aide - C.N.A.
Home Health Aide
Certified Nursing Assistant
Personnel Care Worker
Patient Care Associate
Program Specific Requirements
Writing/English:
ACT: 14
COMPASS: 38
ACCUPLACER: 55
Reading:
ACT: 13
COMPASS: 61
ACCUPLACER: 55
Math/Pre-Algebra:
ACT: 16
COMPASS: 32
ACCUPLACER: 46
Additional Requirements:
To enroll in the Nursing Assistant program, first apply for admission to the College, then read the program's Essential Functions, complete a background check, and provide proof of immunization (including a TB Test). Please see the details below.
Nursing Assistant Background Check form
The background check will be processed by Western.  Please make checks payable to Western Technical College.  Western does not accept third-party background checks (except in the case of students who live out of state).
Our Health and Public Safety programs are required to report additional information to prospective students, including certification exams, licensure, program completion rates, etc. You can find this information in the document below:
CNA Out-of-State Transfer Information
Refer to the Nursing Assistant Schedule for a complete listing of upcoming courses:
Program Contacts
Laurie Ellefson
Program Co-Chair, Nursing Assistant
608-785-9288
EllefsonL@westerntc.edu
Marcia Robbins
Program Co-Chair, Nursing Assistant
608-789-4762
RobbinsM@westerntc.edu