Technical Diploma
Not Financial Aid Eligible
Turn your interest in helping people into a meaningful career. As a nursing assistant, you will directly provide care to patients in hospital, long-term care, or adult day care settings. The program includes a combination of classroom and laboratory activities and hands-on clinical experience in a long-term care facility. You will receive training in communication skills, both oral and written, personal care, basic nursing skills, assisting people in maintaining independence, promoting rehabilitation, and caring for those with Alzheimer's disease and related dementias.
The program is approved by the Wisconsin Department of Health and Family Services as a Nursing Assistant Training program. Students are required by the Wisconsin Department of Health Services to take the Nursing Assistant Registry Exam if they desire employment in a federally-funded health care facility (one that accepts Medicare and Medicaid patients).
To view the Nursing Assistant program's required disclosure on professional licensure, please click here.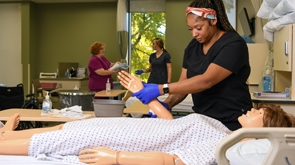 Nurse Aide - C.N.A.
Home Health Aide
Certified Nursing Assistant
Personnel Care Worker
Patient Care Associate
Living responsibly
Refining professionalism
Cultivating passion
Communicate and interact effectively with clients, family, and co-workers
Maintain and protect client rights
Report information and record observations
Demonstrate the ethical and legal responsibilities of the NA/HHA
Provide safe care to a diverse population, meeting personal, physical and psychosocial client needs
Assist with client rehabilitation and restorative care, promoting independence
Assist clients with long-term, disabling conditions including dementia, always focusing on the strengths of the client
Work cooperatively in a team environment
Eligible to take the WI NA Competency evaluation
Additional Requirements
To enroll in the Nursing Assistant program, first apply for admission to the College, then read the program's Essential Functions, complete a background check, and provide proof of immunization (including a TB Test*). Please see the details below.
If COVID vaccines are required by a clinical partner, you will be notified.
* Tuberculosis (TB) Test
One of the following is required:
Two step TB skin test (1-3 weeks apart) OR
Two consecutive annual tests (no more than 12 months between tests) OR
QuantiFERON Gold blood test (lab report required) OR
If positive results provide a lab report or physician verification of a clear chest x-ray.
Most of Western's classes require the use of a personal computer or laptop, standard software, internet access, and other technology-related items.
If you do not have a personal computer or laptop, or if the one you have does not meet the following criteria, resources may be available. Submit a Student Resource Request using our online form.
Computer/Laptop Hardware
Smartphones are not recommended for completing assignments.
Chromebooks are not recommended due to issues with installing software that is needed for classes, such as Office 365.
Web camera with microphone (usually built into newer laptops or can be purchased separately) is necessary for online participation.
Software Needs
For detailed specifications, please review Technology and Software Recommendations for Most Classes on Western's IT Knowledgebase.
Campus Resources
Need Assistance?
Contact the Learning Commons! The staff are happy to answer questions, provide individualized assistance, and direct you to other supports as needed.
Our Health and Public Safety programs are required to report additional information to prospective students, including certification exams, licensure, program completion rates, etc. You can find this information in the document below:
CNA Out-of-State Transfer Information
Refer to the Nursing Assistant Schedule for a complete listing of upcoming courses:
Program Contacts
Kris Stegemeyer
Program Co-Chair, Nursing Assistant
608 785-9413
Stegemeyerk@westerntc.edu
Marcia Robbins
Program Co-Chair, Nursing Assistant
608-789-4762
RobbinsM@westerntc.edu
For admission help contact: admissionscoach@westerntc.edu