Occupational Therapy Assistant
Associate of Applied Science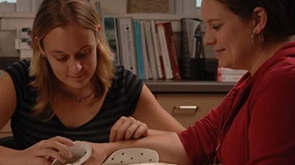 This associate's degree program prepares you to become a Certified Occupational Therapy Assistant (COTA) or for employment in related jobs. In the traditional setting, the COTA provides services under the supervision of an occupational therapist using goal-directed activities to prevent, lessen or overcome difficulty in attaining, maintaining, or developing occupations: daily living skills, play, leisure and/or work skills. Services are provided in various environments, including hospitals, geriatric centers, schools, homes, and communities.
General Education classes are offered in a variety of learning formats. A few OTA program-specific courses are offered online or blended, with the majority taught face-to-face at the Health Science Center, a shared facility located a few blocks from the La Crosse main campus. Check our maps page [1] for specific location information.
For more information about Western's Occupational Therapy Assistant program's student outcomes, please consult the National Board for Certification in Occupational Therapy (NBCOT) website by clicking here [2].
To view the Occupational Therapy Assistant program's required disclosure on professional licensure, please click here [3].
*Please note that the delivery method for fall courses may change as the COVID-19 situation unfolds. Our goal is to ensure that teaching and learning happens in a safe environment. We will communicate updates as quickly as possible.
Occupational Therapy Assistant 2018-2019 Graduation Employment Stats
| | |
| --- | --- |
| Graduates | 15 |
| Graduates Responding | 9 |
| Employed in Related Occupation | 9 |
| Employed in Non-related Occupations | 0 |
| Seeking Employment | 0 |
| Continuing Education | 0 |
| Not in Labor Market | 0 |
Salary Data - Related Employment
| | Part Time | Full Time |
| --- | --- | --- |
| Responding | 2 | 6 |
| Average Hours Per Week | | 37 |
| Median Hourly Wage | | $25.00 |
| Hourly Wage Range | | $23.00-$29.00 |
| Median Annual Salary | | $49,916.00 |
Respondents in Related Occupations
Certified occupational Assistant; Kindred Hospice, Rochester, IN
Certified Occupational Therapy Assistant; Luxemburg-Casco Primary School, Luxemburg, WI
COTA/L; Medical Facilities of America, Lynchburg, VA
Director of Rehabilitation; Remedy Therapy Services, Caledonia, MN
Career Opportunities
Occupational Therapy Assistant
Program Outcomes
Living responsibly
Refining professionalism
Cultivating passion
Practice within the distinct role and responsibility of the occupational therapy assistant
Serve a diverse population in a variety of systems that are consistent with entry level practice
Value life-long learning and the need to keep current with best practice
Apply occupational therapy principles and intervention tools to achieve expected outcomes
Demonstrate professional behaviors, ethical standards, values, and attitudes of the occupational therapy profession
Advocate for the profession, services, and consumers
Courses
The following list is not the official course list for this program. It is intended to give students an idea of what coursework will be required.
Current students should use the MyWestern [12] self-service portal when registering for class.
First Term
Intro to Ethics: Theory & App
Second Term
Activity Analysis/Applications
Medical & Psychosocial Conditions
Fifth Term
Introduction to Diversity Studies