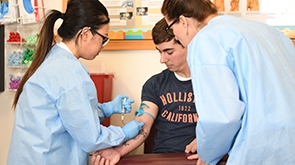 Not Financial Aid Eligible
In this three-credit course, you'll learn to effectively and efficiently obtain quality blood samples for laboratory testing.
Program-specific courses are held in the Health Science Center, a shared facility located a few blocks from the La Crosse main campus. Check our maps page [1] for specific location information.
Career Opportunities
Phlebotomist
Healthcare Support Worker
Admission Requirements:
College Requirements
Program Specific Requirements
Additional Requirements:
To enroll in the Phlebotomy program, first apply for admission to the College, then read the program's Essential Functions and complete a background check. The last step for admission to the program will be to complete an Intent to Enroll form. You can find links to these documents below.
COVID-19 Vaccination Status 
COVID-19 vaccination is not required to attend classes at Western Technical College, however your clinical site now requires proof of completion of COVID-19 vaccination to attend their sites. To prevent any interruption in your clinical/practicum/field classes, we are now requiring you to provide us with your COVID-19 vaccination proof to enter this program.
Software and Technology
Most of Western's classes require the use of a personal computer or laptop, standard software, internet access, and other technology-related items.
If you do not have a personal computer or laptop, or if the one you have does not meet the following criteria, resources may be available. Submit a Student Resource Request using our online form [6].
Computer/Laptop Hardware
Smartphones are not recommended for completing assignments.
Chromebooks are not recommended due to issues with installing software that is needed for classes, such as Office 365.
Web camera with microphone (usually built into newer laptops or can be purchased separately) is necessary for online participation.
Software Needs
For detailed specifications, please review Technology and Software Recommendations for Most Classes [8] on Western's IT Knowledgebase.
Campus Resources
Need Assistance?
Contact the Learning Commons

[12]

! The staff are happy to answer questions, provide individualized assistance, and direct you to other supports as needed.
Additional Information
Course Sequence and Delivery
The Phlebotomy Skills and Experience course is 3 credits and runs the entire length of the term. For the first half of the term, you will attend lecture and practice your skills in lab for two hours a day, two days a week. After you complete the lecture and lab portion of the course on campus, you will begin clinical rotations to obtain real-world experience. The clinical rotation consists of 64 hours and is completed during the second half of the course. You will be scheduled for at least two 4-hour blocks of time at your clinical site each week for a total of 8 hours per week.
The availability of clinical slots for Phlebotomy students is wholly dependent on the operational demands of our clinical partners. Clinical time may be held at any time between 8:00 a.m. and 4:30 p.m. on any weekday, Monday through Friday. Although our Clinical Coordinator will do her best to accommodate students' work and class schedules, we are unable to determine in advance where and when students will be assigned to clinical. This information will be shared with students during the fourth week of class.
Courses
The following list is not the official course list for this program. It is intended to give students an idea of what coursework will be required.
Current students should use the MyWestern [13] self-service portal when registering for class.
First Term
Phlebotomy Skills & Experience