Associate of Applied Science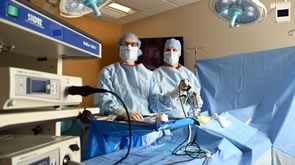 It takes a collaborative effort to ensure that things run smoothly in the operating room, where conditions can be stressful and demanding. If you can stay calm in these types of situations, you may consider the critical role of a surgical technician. You would be the member of the surgical team who makes sure that equipment is working properly, that the environment is sterile and safe, and that the patient is comfortable. Surgeries can be invasive, diagnostic, or therapeutic, and you'll gain experience in all these areas. Your responsibilities will include pre- and post-op care as well.
It takes focus, dedication, and the ability to multi-task to work in an operating room. All candidates will have a job shadowing experience prior to the start of the program and will observe a surgery in progress.
Some courses are available online, with distance learning options available at our regional locations. Study will include lab courses from the beginning, with clinical rotations scheduled as the student progresses.
Graduates take a national certification exam before beginning employment.
Surgical Technology 2016-2017 Graduation Employment Stats
| | |
| --- | --- |
| Graduates | 9 |
| Graduates Responding | 5 |
| Employed in Related Occupation | 4 |
| Employed in Non-related Occupations | 0 |
| Seeking Employment | 0 |
| Continuing Education | 0 |
| Not in Labor Market | 0 |
Salary Data - Related Employment
| | Part Time | Full Time |
| --- | --- | --- |
| Responding | 0 | 4 |
| Average Hours Per Week | | 39 |
| Median Hourly Wage | | $21.00 |
| Hourly Wage Range | | $19.00 - $23.40 |
| Median Annual Salary | | $43,677 |
Respondents in Related Occupations
Certified Surgical Technician; Gundersen Health System, La Crosse, WI
Certified Surgical Technologist 1; Inova Loudoun Hospital, Leesburg, VA
Certified Surgical Technician/Operating Room Technician; Black River Memorial Hospital, Black River Falls, WI
Surgical Technician; Tomah Memorial Hospital, Tomah, WI
Career Opportunities
Surgical Technologist
Surgical Technician
Certified Surgical Technologist
Program Outcomes
Use effective communication skills
Apply mathematical concepts
Transfer social and natural science theories into practical applications
Demonstrate ability to think critically
Demonstrate ability to value self and work ethically with others in a diverse population
Use technology effectively
Make decisions that incorporate the importance of sustainability
Apply healthcare and technological science to the perioperative environment.
Maintain principles of sterile technique in the surgical environment.
Provide a safe, efficient, and supportive environment for the patient.
Prepare the patient, operating room and surgical team for the preoperative phase.
Perform intraoperative case management in the scrub role.
Perform postoperative case management.
Function as an ethical, legal, and professional member of the healthcare team as determined by governing bodies.
Courses
The following list is not the official course list for this program. It is intended to give students an idea of what coursework will be required.
Current students should use the MyWestern [7] self-service portal when registering for class.
Second Term
Exploring Surgical Issues
Intro to Surgical Technology
Surgical Tech Fundamentals 1
Third Term
Surgical Skills Application
Surgical Tech Fundamentals 2
Fourth Term
Intro to Diversity Studies
Surgical Technology Clinical 1
Surgical Technology Clinical 2
Fifth Term
Surgical Interventions II
Surgical Technology Clinical 3
Surgical Technology Clinical 4