Evan, Western Accounting Graduate, '19
Evan's Story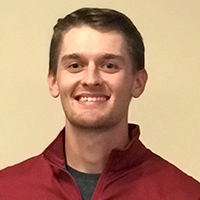 Evan, of New Albin, Iowa, graduated from high school in 2017. As Evan finished up his high school career, he knew his next step was to earn a 4-year degree. He wanted to do so close to home and as financially conservative as possible. Evan also knew Western's academics are rigorous and solid, and Viterbo University is conveniently near. He entered Western's accounting program in 2017 and chose to take advantage of Viterbo's accounting transfer articulation agreement with Western. Viterbo also has scholarships available for transferring Western students, with which his advisor helped him. Spoiler alert—the choice soon proved to be a smart one!
Evan states, "Going from Western to Viterbo was a seamless process; it could not have been better or easier." Evan's initial Viterbo contact came when Ryan Thibodeau, a Viterbo admissions representative, came to Western's campus to talk to students about articulation agreements. Evan established a plan with the assistance of an academic advisor under the guidance of the articulation agreement. He then ran the plan by his Western faculty advisor, who approved it on the first go-around. Evan also had several general education credits from Northeast Iowa Community College. All credits from both technical schools easily transferred to Viterbo after a bit of planning and a conversation with a helpful, trusted, and invested advisor. Before Evan graduated from Western, he was accepted, registered, and had his class schedule set at Viterbo!
The process of establishing the academic plan, completing minimal paperwork, and transferring credits was smooth and problem-free. In addition to the hassle-free communication and partnership between the two institutions, each school's academic climate complemented the other. Evan states, "The Accounting program at Western is rigorous and difficult with deadlines mimicking a real-world accounting career. We would hit the concepts hard and repeat for thorough retention." Evan felt that his Western core accounting classes enabled him to enter Viterbo's program with a strong foundation and superior accounting acumen. At Viterbo, Evan is currently taking business managerial courses, accounting theory and concepts, and business ethics; this is a perfect balance and counterpoint to his foundational accounting prowess. Bolstered by confidence, Evan is a strong, well-rounded student who is well prepared. 
The classroom environments are unique but equally valid. Western classes often contain a diverse student cohort: working adults, parents with young children, recent high school graduates, those seeking a career change, etc. The lived experiences of Western students add depth and interest to the classroom experience. While at Viterbo, Evan is in classes with peers similar in age but who have vastly different interests, talents, and majors. These differences, too, added to the classroom experience, insight, and discussion. Evan has an appreciation of both; both present as positive experiences.
Evan is on track to have his bachelor's degree this year. He will graduate next year with his master's in accounting and plans to take the CPA exam. Evan closes with, "It's pretty easy to run out of stuff to say when the process is good, to be honest. Both schools are great. My time at Western and going from one to the other was seamless. The whole thing is stress-free; people on both ends were, and are, exceptional about helping me get through school as smoothly as possible. No loose ends. No headaches." To summarize the reciprocal benefit of the two-school approach, Western provides the "How" while Viterbo emphasizes the "Why."