The resources on this page can help you find the job or internship you're looking for. Browse job-seeking sites, update your resume, prepare for an interview, and more.
Contact us if you'd like to meet with our Career Services staff. For a Zoom or phone appointment please click here. For a face-to-face appointment in The SPACE (Student Success Center Room 222), email us at careerservices@westerntc.edu or call 608-785-9440. 
Handshake
Handshake is your online employment connection for employers looking to hire you. This system is available to students and graduates at all 16 Wisconsin Technical Colleges. Current students, alumni and faculty/staff can join Handshake to: 
Enjoy 24/7 access to view over 3.5 million job and internship postings. Watch our video to learn how to search for jobs on Handshake and network with other Western students.
Create a profile and upload your resume to be viewed by employers. Watch our video to learn how to create a Handshake profile.
Apply for jobs on the site or link to an external application. 
Receive emails when new jobs are posted in your program area. 
Additional Job-Seeking Sites
We've collected a variety of job search websites that can help you find the perfect career.
Job Search Handbook
Wherever you're at in your career search, Western's Job Search Handbook provides help each step of the way. Inside, you'll find resume and cover letter advice and examples, job search assistance, interview tips, and more.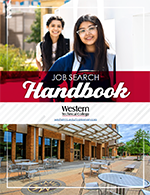 Let us help you get started in the program that's right for you!
The SPACE, Student Success Center, Room 222
400 7th Street North