Ready, Set, Go—Get That Job!
Presented By The Western Alumni Association & Western's Career Services
Tuesday, February 5, 2019
5:30 p.m. - 7:30 p.m.
Western Technical College Lunda Center
319 7th Street North, La Crosse WI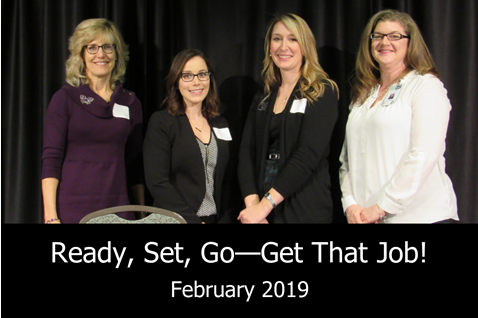 Watch a video recording of the 2019 panel presentation
Looking for a job? Alumni and students are invited to learn how to be successful.
A variety of companies that hire our graduates will be participating and many Western alumni will be providing their expertise. This is not a job fair, but rather a tool to assist participants in the job search.
5:30 - 5:45 p.m. -- Check in and sign up for round table discussions
5:45 - 6:15 p.m. -- Panel: Gundersen Health System, Organic Valley, Trane Company, La Crosse County
6:15 - 6:45 p.m. -- Round table Discussions, Session 1
6:45 - 7:15 p.m. -- Round table Discussions, Session 2
7:15 - 7:30 p.m. -- Networking with presenters
Round Table topics include:
Standout in the Job Search
Personal Branding
Utilizing Social Media for Your Job Search
Top Tough Interview Questions
Job Winning Resumes
Secrets to Interview Success
Make a Good First Impression
Life After Western – my biggest mistakes and best moves
The Power of Networking – making relationships work for you
Portfolios to Showcase Your Accomplishments
…and more!
Additional Information
Refreshments will be provided.
Business casual attire is recommended.
Ample parking is available across from the Lunda Center, Lot B; parking permits are not required.
Seating is limited so register early! Register by providing your name and email address to the Alumni Office:
Email: alumni@westerntc.edu
Phone: 608-789-6083