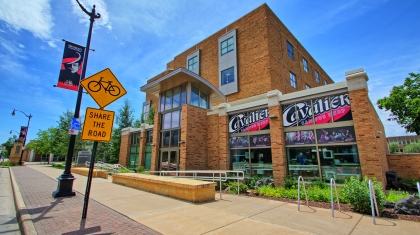 LA CROSSE, Wis., February 22, 2023 – Officials from Western Technical College and eCampus.com announced today a new partnership that awards eCampus.com the opportunity to serve as the college's official new online campus bookstore, beginning in Summer 2023. 
The partnership will help streamline and simplify the online book ordering process for students, allowing for faster access and accessibility to a range of new and used books and course materials for purchase or rental. Items will then be delivered to a student's home address, or any of Western's locations. The current bookstore, the Cavalier Campus Shop, will be converted into a spirit store following the transition next year. 
"The changing dynamics of how we deliver course materials has really changed in the last several years, as more classes continue to go online," said Dan Murphy, Enterprise Services Director at Western. "With that said, we are really excited to begin the partnership to provide students with a better and more affordable way to purchase classroom books." 
"eCampus.com is excited to partner with Western Technical College to deliver low-cost course material solutions for students," said Matt Montgomery, President and CEO of eCampus.com. "We look forward to aligning our commitment to student success through affordable textbooks and digital content with Western's mission to provide a relevant high-quality education." 
To learn more about Western's new online campus bookstore, visit www.westerntc.ecampus.com.  
About eCampus.com
eCampus.com is a premier online retailer of textbooks and digital course materials. Consistently exceeding industry standards, eCampus.com's mission is to provide the easiest, fastest, and most affordable way for K-12 and higher education students to buy, rent, or sell textbooks and digital content. The company launched on July 2, 1999, the birthday of original investor Dave Thomas of Wendy's. From the beginning, their driving force has been meeting the needs of the customers they serve. Remaining an innovative leader in the course materials industry, eCampus.com serves over 300 schools, colleges, and universities through an innovative course material solutions suite, including full-service Online Bookstores and the eCampus.com ALL Access program. eCampus.com's mission enables institutions to increase course material affordability, serving millions of students to date. Through products that simplify the adoption, management and procurement of course materials, eCampus.com propels student success by delivering the right course materials, at the right time, at the right price. Learn more at http://www.ecampus.com and http://ecampushighered.com.