Technical Diploma
The knowledge and skills gained from this program will prepare you for a position as an automotive technician with responsibilities that are above entry-level. Coursework includes steering and suspensions, brake systems, and overall engine performance.
Emphasis is placed on hands-on experiences and includes the use of diagnostic equipment and emission control devices, computerized engine control systems, input sensors, output devices, and exhaust systems.
Classes are held at Western's state-of-the-art Automotive Facility, located in La Crosse's industrial park, 2721 Larson Street. Check our maps page for specific location information.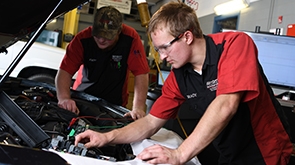 Automotive Technician
Automotive Mechanic
Quick Lube Technician
Parts Specialist
Use effective communication skills
Apply mathematical concepts
Transfer social and natural science theories into practical applications
Demonstrate ability to think critically
Demonstrate ability to value self and work ethically with others in a diverse population
Use technology effectively
Make decisions that incorporate the importance of sustainability
Program Specific Requirements
Writing/English:
ACT: 16
COMPASS: 56
ACCUPLACER: 55
Reading:
ACT: 13
COMPASS: 60
ACCUPLACER: 70
Math/Pre-Algebra:
ACT: 16
COMPASS: 34
ACCUPLACER: 46