Certificate
Not Financial Aid Eligible
Solar energy is a growing industry in western Wisconsin. The Solar Installation Technician certificate is designed to address the needs of regional utility power suppliers that offer renewable energy options, as well as private companies that provide solar solutions for residential, commercial, non-profit, and government sectors.
Western has several solar panel systems that not only provide power to buildings, but offer the perfect, real-life training opportunity.
This certificate is a pathway into the Building Science and Energy Management associate's degree, which can lead to career advancement opportunities.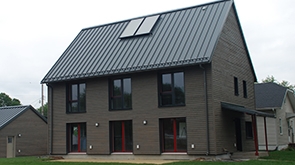 Solar Installer/Service Technician
Solar Site Evaluator/Permit Technician
Solar Electrician
Electrical Technician
College Requirements
High School Transcript or GED/HSED
Program Requirements
Western Technical College uses ACCUPLACER, a computer-based, online assessment that measures your abilities in reading, sentence skills, and arithmetic. This information will be used to place you in courses that best fit your academic goals. Based on your scores, you may need to take additional general studies course(s) along with the general studies courses required for your program.
Several options for waiving the ACCUPLACER test are available; view the waivers here.
Learn more about placement tests and how they are used at Western: Placement Testing.