About Community Engagement
Connecting the college and community for the purpose of fulfilling a community need, while developing a deeper sense of civic engagement and academic learning within our students—that's community engagement! The Community Engagement Department works with students, instructors, and community organizations to identify opportunities for partnership. By working together, Western can fulfill community needs, provide personal enrichment education (community education), and give students a deeper academic experience.
Making an impact is what Western Technical College strives to do. Influencing, growing, building, educating, and helping are all ways to impact the community, and students across the college are doing that in a large way! From designing homes for Habitat for Humanity to providing free computer support to the public at large, Western is engaged and committed to impacting our communities. Check out our annual Community Engagement reports for data and stories about how Western is serving to make a difference.
2018 Annual Report
2017 Annual Report
2016 Annual Report
2015 Annual Report
Each year Community Engagement awards one faculty member with the Distinguished Service Learning award. Faculty members are selected based on the standards below and receive the award at the annual Celebration of Community Engagement.
Faculty Award Standards
Service-learning is significant to the program or course.
Service-learning addresses several course competencies.
Service-learning transfers theory to practice.
Instructor's service-learning project was a new project or significantly improved over time.
Service-learning addresses community need.
Community engagement can provide specific examples of the impact on community and students.
Critical reflection occurs.
2019 Award Recipient
Deb Klug, Culinary Management Instructor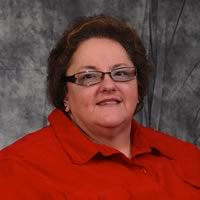 Deb was this year's recipient. During Deb's 42 years of service to Western, she has been very well-known for her creativity in the kitchen but also in the classroom. Her teaching has always been about growth, continuous improvement, and most importantly, compassion. In the program, students take a food sustainability course, run a restaurant called the Bistro, and get involved in community food projects like the La Crosse Community Thanksgiving Dinner.
During the 2019 academic year, students completed 1,150+ hours of service.
Previous Award Recipients
2018: Cindy Prindle, IT Instructor
2017: Ann Lichliter, Human Services Associate Instructor
2016: Christine Krueger, Occupational Therapy Assistant Instructor
Community Engagement Department
Integrated Technology Center, Room 313
325 8th Street North