Technical Diploma
Gain a strong foundational understanding of business management as well as enhanced skills in leadership, business communication, critical thinking, and problem solving with Western's Business Specialist technical diploma. This program emphasizes fundamental business knowledge through exposure to broad areas such as human resources, finance, marketing, and business law.
You'll walk away with relevant skills and abilities to achieve your professional and personal goals. This technical diploma program is a pathway to the Business Management associate's degree for those who are interested in further advancement. Courses are offered entirely online or in a blended format that combines classroom and online learning.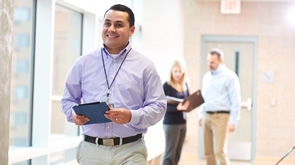 Administrative Officer/Specialist
Business Manager
Business Administrator
Living responsibly
Refining professionalism
Cultivating passion
Implement operational plans across functional areas
Direct processes related to making products or providing services
Direct individuals to meet organizational goals
Coordinate activities to meet organizational goals
College Requirements
High School Transcript or GED/HSED
Program Requirements
Western Technical College uses ACCUPLACER, a computer-based, online assessment that measures your abilities in reading, sentence skills, and arithmetic. This information will be used to place you in courses that best fit your academic goals. Based on your scores, you may need to take additional general studies course(s) along with the general studies courses required for your program.
Several options for waiving the ACCUPLACER test are available; view the waivers here.
Learn more about placement tests and how they are used at Western: Placement Testing.