Associate of Applied Science
A number of options will be open to you with a Business Management degree. Our program provides a broad background in all aspects of business management, including business management theory, finance and accounting, human resources, software applications, marketing, e-commerce, and business law.
Your depth of knowledge will be demonstrated with a capstone project, which is reviewed by local business professionals. Plus, you'll develop a portfolio that will help pave the way to a professional career. The Business Management Program can be taken in a format that combines classroom and online learning or entirely online.
Upon graduation, the world of entry-level management positions will be open to you or, if you wish to open your own business, continue your education with our embedded Entrepreneurship certificate.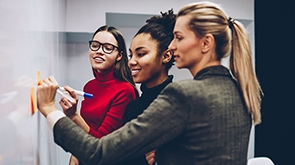 Business Development Specialist
Business Associate/Analyst
Human Resource Assistant
Business Support Specialist
Economic Support Specialist
Employment Specialist
HR Generalist
Living responsibly
Refining professionalism
Cultivating passion
Plan the operations of a business across functional areas
Organize resources to achieve the goals of an organization
Control business processes
Direct individuals and/or processes to meet organizational goals
Apply principles of corporate responsibility
Model customer service principles for a business
College Requirements
High School Transcript or GED/HSED
Program Requirements
Western Technical College uses ACCUPLACER, a computer-based, online assessment that measures your abilities in reading, sentence skills, and arithmetic. This information will be used to place you in courses that best fit your academic goals. Based on your scores, you may need to take additional general studies course(s) along with the general studies courses required for your program.
Several options for waiving the ACCUPLACER test are available; view the waivers here.
Learn more about placement tests and how they are used at Western: Placement Testing.