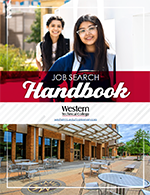 The resources on this page can help you find job openings and prepare for an interview. For your convenience, Western's Career Services Department designed a Career Readiness Handbook as a resource to support you in your journey to employment. There are many examples, resources, and guidelines to help you find the right job for you.
For a Zoom or phone appointment please click here. Zoom is recommended if you have an assignment, so that you can share your resume with the career services staff. For a face-to-face appointment in The SPACE (Student Success Center Room 222), email us at careerservices@westerntc.edu or call 608-785-9440. 
Let us help you get started in the program that's right for you!
The SPACE, Student Success Center, Room 222
400 7th Street North