Technical Diploma
With an interest in creating, designing, building, and otherwise improving outdoor spaces, you'll have many opportunities in the field of landscape horticulture.
A combination of creativity and technical knowledge of plants and soils, along with a desire to work outdoors, means you can find employment in a number of fields, including landscape design, landscape construction, and landscape maintenance. You could find yourself working in a greenhouses or garden center, a golf course, an outdoor sporting venue, or on a park or maintenance crew. You might even choose to go into business for yourself. And, you could be ready to enter your career within one year!
The nature of the Landscape Horticulture program demands that much of the learning takes place in the field and in Western's on-campus Horticulture Education Center. You'll learn to evaluate landscape construction systems, determine suitability of plants for placement, understand turf management, identify common landscape pests, and be able to identify soils and correct soil deficiencies, all with principles of sustainability in mind. Additionally, you will gain experience in our state of the art greenhouse facility.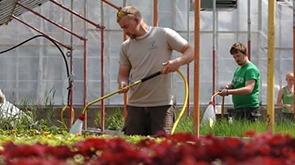 Plant Health Care Technician
Landscape Installation Technician
Lawn Care Technician
Greenhouse Technician
Irrigation Installation Technician
Tree & Shrub Care Technician
Landscape Maintenance Technician
Living responsibly
Refining professionalism
Cultivating passion
Analyze growing media
Diagnose plant health
Communicate as a horticulture professional
Apply design principles
Provide horticulture maintenance
Apply the principles of plant science
College Requirements
High School Transcript or GED/HSED
Program Requirements
Western Technical College uses ACCUPLACER, a computer-based, online assessment that measures your abilities in reading, sentence skills, and arithmetic. This information will be used to place you in courses that best fit your academic goals. Based on your scores, you may need to take additional general studies course(s) along with the general studies courses required for your program.
Several options for waiving the ACCUPLACER test are available; view the waivers here.
Learn more about placement tests and how they are used at Western: Placement Testing.