Certificate
Not Financial Aid Eligible
This certificate is designed for those who have already earned a bachelor's degree and will prepare you for a rewarding career in a wide selection of legal areas. As a paralegal, you will be involved in all facets of the law while working under the direction of a licensed attorney. A successful paralegal is a good communicator, enjoys working with diverse populations, pays attention to details when researching and analyzing facts, is a strong problem solver, and is ethical. Western's Paralegal classes are taught by certified Wisconsin Paralegals and licensed Wisconsin Attorneys.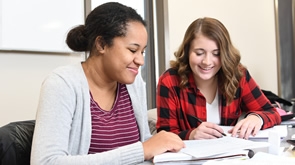 College Requirements
High School transcript or GED/HSED
Program Requirements
Western Technical College uses ACCUPLACER, a computer-based, online assessment that measures your abilities in writing/sentence skills, reading comprehension, and arithmetic. This information will be used to place you in courses that best fit your academic goals. Based on your scores, you may need to take additional general studies course(s) along with the general studies courses required for your program.
Several options for waiving the ACCUPLACER test are available; view the exemptions here.
Learn more about placement tests and how they are used at Western: Placement Testing.