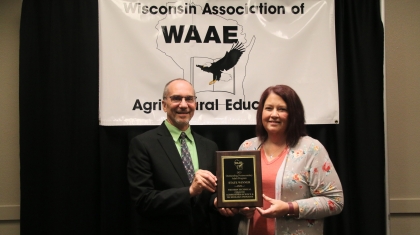 LA CROSSE, Wis., August 8, 2023 - Western Technical College's Agribusiness Science and Technology program recently received the Outstanding Post-Secondary Program Award from the Wisconsin Association of Agricultural Educators (WAAE).
The award recognizes outstanding achievement and programming for college students entering into careers related to agriculture. The award highlighted Western's redesign of the program back in 2020, which included adding additional business management and soft skill courses at the request of regional businesses. In addition, the program collaborated with GROW, introducing students of all ages from the community to the program and how food is produced.
"During the recent program redesign, we worked hard to shape a program that would meet the needs of both our students and local employers," said Dona Goede, Agribusiness instructor at Western. "The new program combines the technical skills that the students want with the soft skills that our employers desire. This award acknowledges the hard work we put in to make this program for the future of agriculture."
To learn more information on Western's programs or services, call 608.785.9200 or visit www.westerntc.edu.