Associate of Applied Science
As a registered nurse (RN), you will be at the heart of a team dedicated to excellence in managing and delivering healthcare. This program provides the skills to integrate social, mathematical, and physical sciences, pharmacology, and pathophysiology into your clinical decision making. You will learn to communicate effectively, collaborate with others, and mobilize resources to promote, maintain, and restore health. Critical thinking and problem solving using the nursing process are emphasized, preparing you for a leadership role. The practice of nursing includes adherence to established professional standards—consistently demonstrating caring, respect, and cultural sensitivity. There is a strong demand for nurses, in a wide variety of care settings.
All registered nurses are required to take a national exam to obtain a license to practice. Compared with all programs nationwide, Western graduates have been consistently successful in passing the exam.
The Nursing program uses a Petition Process to determine acceptance into the core Nursing courses. Read the information in the Admissions Requirements section below, or visit the Nursing Petition Requirements page for details.
To view the Nursing program's required disclosure on professional licensure, please click here.
*Please note that the delivery method for courses may change as the COVID-19 situation proceeds. Our goal is to ensure that teaching and learning happens in a safe environment. We will communicate updates as quickly as possible.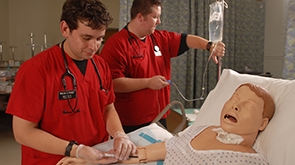 Living responsibly
Refining professionalism
Cultivating passion
Implement one's role as a nurse in ways that reflect integrity, responsibility, ethical practices, and an evolving professional identity as a nurse committed to evidence-based practice, caring, advocacy and quality care
Demonstrate appropriate written, verbal, and nonverbal communication in a variety of clinical contexts
Integrate social, mathematical, and physical sciences, pharmacology, and pathophysiology in clinical decision making
Provide patient centered care by utilizing the nursing process across diverse populations and health care settings
Minimize risk of harm to patients, members of the healthcare team and self through safe individual performance and participation in system effectiveness
Lead the multidisciplinary health care team to provide effective patient care throughout the lifespan
Use information and technology to communicate, manage data, mitigate error, and support decision-making
College Requirements
High School Transcript or GED/HSED
Program Requirements
Western Technical College uses ACCUPLACER, a computer-based, online assessment that measures your abilities in reading, sentence skills, and arithmetic. This information will be used to place you in courses that best fit your academic goals. Based on your scores, you may need to take additional general studies course(s) along with the general studies courses required for your program.
Several options for waiving the ACCUPLACER test are available; view the waivers here.
Learn more about placement tests and how they are used at Western: Placement Testing.
Additional Requirements:
Once you have been admitted to the college and accepted as a Nursing Pre-Major student, your next step is to complete the Nursing Associate Degree Petition Requirements.
The Associate Degree Nursing Program at Western Technical College located in La Crosse Wisconsin is accredited by the:
Accreditation Commission for Education in Nursing (ACEN)
3390 Peachtree Road NE, Suite 1400 Atlanta, GA 30326
404-975-5000
The most recent accreditation decision made by the ACEN Board of Commissioners for the Associate Degree Nursing program at Western Technical College is Continuing Accreditation. View the public information disclosed by the ACEN regarding this program at http://www.acenursing.us/accreditedprograms/programSearch.htm.

Our Health and Public Safety programs are required to report additional information to prospective students, including certification exams, licensure, program completion rates, etc. You can find this information in the documents below:
Program Contact
Deb Kaiser
College Advisor
608-785-9078
KaiserD@westerntc.edu
Stacey Nelson
College Advisor
608-785-9842
NelsonS@westerntc.edu