Associate of Applied Science
An exciting and challenging career awaits you in a growing field. As a paralegal, you will be involved in all facets of the law while working under the direction of a licensed attorney. A successful paralegal is a good communicator, enjoys working with diverse populations, pays attention to details, is a strong problem solver, and is ethical.
This program is an ABA (American Bar Association) approved program. The current ABA definition of a Legal Assistant/Paralegal is as follows:
A legal assistant or paralegal is a person, qualified by education, training or work experience who is employed or retained by a lawyer, law office, corporation, governmental agency or other entity and who performs specifically delegated substantive legal work for which a lawyer is responsible.
This program covers all aspects of law: criminal, family, real estate, civil, and probate. Our graduates find employment in private practice, corporate legal departments, and government entities.
Core courses are offered in a traditional format during the day with some offered online and blended. General education classes are available in tradition and online formats.
Paralegals may not provide legal services directly to the public, except as permitted by law. 
*Please note that the delivery method for courses may change as the COVID-19 situation proceeds. Our goal is to ensure that teaching and learning happens in a safe environment. We will communicate updates as quickly as possible.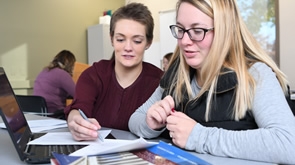 Paralegal
Legal Administrative Assistant
Court Clerk
Living responsibly
Refining professionalism
Cultivating passion
Apply ethical principles in a legal environment
Process legal documents
Perform legal research
Apply critical thinking skills to address legal issues
Demonstrate professionalism in a legal environment
College Requirements
High School Transcript or GED/HSED
Program Requirements
Western Technical College uses ACCUPLACER, a computer-based, online assessment that measures your abilities in reading, sentence skills, and arithmetic. This information will be used to place you in courses that best fit your academic goals. Based on your scores, you may need to take additional general studies course(s) along with the general studies courses required for your program.
Several options for waiving the ACCUPLACER test are available; view the waivers here.
Learn more about placement tests and how they are used at Western: Placement Testing.
The Paralegal program is an approved program by the American Bar Association (ABA (https://www.americanbar.org) ), 321 North Clark St. - 19.1, Chicago, IL 60654-7598, telephone 312-988-5617.