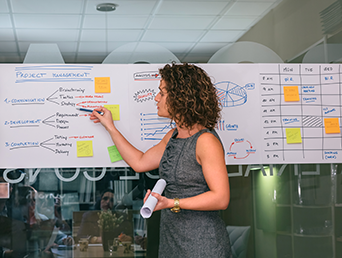 The Certificate in Project Management program provides you with an individual, expert project management coach and a customized six-session curriculum to help achieve the knowledge, skills, and tools to successfully manage projects, project teams, or to prepare for the PMP exam.
In this innovative, flexible, and fully customized approach, Western will provide a pool of fifteen knowledgeable coaches allowing you to choose who will lead you on your six-session pathway to a Western Technical College Project Management Certificate.  
Collaborative and Customized Based on Your Professional Goals
Your project management certificate training begins with a one-on-one session to review your professional goals and discuss your instructor selection and preferred learning approach.
Your program instructor will design a fully-customized certificate training program that consists of 56 hours of project management learning activities. Each learning activity will be in-sync with your professional goals and learning style.
Why you should study Project Management
Popular tracks to your Project Management Certificate training can include:
Project Management Professional (PMP) exam prep track. This track completely covers the PMBOK® content and helps you to prepare to sit for the exam.
Learning Project Management Fundamentals and Building Your Project Portfolio. In this track you select a project from within your organization to professionally plan, as part of your certificate training. Using a real-world project is an outstanding learning opportunity because it can be used to illustrate, apply, and practice project management principles within a practical situation. In addition, your organization receives immediate tangible value because you completed your certificate training while successfully managing a challenging project at work.
Focusing on a Special Area of Interest. Students have used this for many different advanced topics.  Examples include:


Learning how to set up a Project Management Office (PMO)
Learning how to Rescue a Problem Project
Learning how to use an Agile Project Management Methodology
Mix or match tracks to meet your needs. Our project management certificate training is uniquely rewarding because this real-world approach enhances the learning experience and enhances project management competencies.
Requirements: The certificate is awarded after you complete six sessions and 56 hours of project management learning activities.
Cost:  $2,200 
A $300.00 discount will be applied per person when there are three or more participants from your organization registering at the same time. Contact us to learn more.
This is an ongoing, instructor led program. Our director will work with you on your instructor selection and to schedule the start of your program. Direct questions regarding the Project Management Certificate Program to BIS@westerntc.edu or call 608-785-9232.
Open enrollment—you can register at any time and complete it within a month or take up to a year.
Customized course design based on identified professional goals and project management skills gaps.
No classroom sessions, allowing you to travel for business and pleasure while still progressing in your program. Our instructors usually use Zoom, e-mail, phone, etc. to remain in contact.
Gain practical hands-on project management experience while managing a real-world project.
One-on-one coaching with your selected program instructor.
Earn 5.6 continuing education units (

CEUs

).
"I was in my late 30's when I decided to pursue my PMP.  It felt like ages since I've been in school and I wasn't sure I even knew how to study at that point. However, my nerves and doubts quickly went away when I began the Successful Projects PMP program.  The way the material and sessions were broken out made so much sense and made retention of the topics easy.  The instructors were very knowledgeable and helpful.  They were committed to my journey and instilled the confidence in me that I needed for exam day.  After I got the exciting news that I passed, I'm pretty sure I called my instructor before my spouse!"
Amanda King, PMP, Project Management Branch Manager
"I just accepted a position as a full time Project Coordinator Intern! I obtained the position because I had the background in and passion for PM that I gained from your certification program. I learned many great tactics to ensure that projects are completed successfully. One aspect of the program that I genuinely appreciated was that each student got paired with a mentor/leader that had workforce experience in Project Management. My mentor, Deb Roch, was super personable and supplied great feedback. This program has made me stand out to several employers, which helped push me further into interview process for multiple jobs. If I was to go back in time, I would 100% complete this program again."
Amy Blank, Project Coordinator Intern
"I felt the workshop was valuable and that your presentation skills are excellent. Everything flowed very well and you stayed on schedule with the workshop.  Keep up the good work!"
Greg Novotny, Project Risk and Status Reporting Attendee
"Great value for the money – fun, interactive. I taught Risk today and used lots of things you had taught! I stressed opportunities and used the EESA and MATA (which you taught me). I will recommend some of my Advanced PM students to come."
Nancy Olson, Project Risk and Status Reporting Attendee
Payment is due at time of registration. Payment options include credit card, PayPal, check, or PO. Please call or e-mail BIS for alternative payment options. 
Business and Industry Services
Lunda Center
333 7th Street North