Technical Diploma
Skilled welders are in great demand, and the outlook for employment remains good in our region and nationwide as the manufacturing and construction industries continue to grow. With good math skills, attention to detail, and a preoccupation with quality, you could make welding a career.
Our program covers theory and practice in all types of welding: shielded metal arc, oxy-fuel, gas metal arc, and gas tungsten arc, and robotic arc welding. You'll be educated in the proper use of tools and equipment, safety, and blueprint reading as you practice welding joints in all positions and on all types of metals.
Heavy construction and manufacturing depend on skilled welders and offer excellent wages to those who are up to the challenge.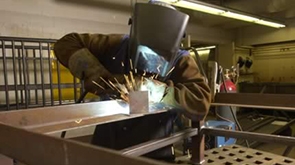 Welder
Production Welder
Fabrication Welder
Mig/Tig Welder
Metal Fabricator
Pipe Welder
Robotic Welder
Living responsibly
Refining professionalism
Cultivating passion
Demonstrate industry recognized safety practices
Interpret welding drawings
Produce shielded metal arc welds (SMAW)
Produce gas metal arc welds (GMAW)
Produce flux core welds
Produce gas tungsten arc welds (GTAW)
Perform thermal cutting