Technical Diploma
Accounting may be your field if you enjoy the challenge of keeping records and tracking finances. As an accounting assistant, you may have full responsibility for bookkeeping functions in a small business or have a single task in a large accounting department. Hands-on computer training and classroom instruction provide a solid background in accounting concepts and procedures.
All courses in this technical diploma can be applied to Western's Accounting associate's degree if you choose to continue your education. Classes are offered in a traditional face-to-face environment, online format, through interactive distance learning, or a blend of the formats.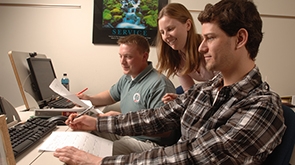 Accounting Assistant
Bookkeeper
Account Clerk
Payroll Clerk
Teller
Accounting Aide
Accounts Payable/Receivable Clerk
Living responsibly
Refining professionalism
Cultivating passion
Process financial transactions throughout the accounting cycle
Analyze basic financial and business information to support planning and decision-making
Perform payroll preparation, reporting, and analysis tasks
College Requirements
High School Transcript or GED/HSED
Program Requirements
Western Technical College uses ACCUPLACER, a computer-based, online assessment that measures your abilities in reading, sentence skills, and arithmetic. This information will be used to place you in courses that best fit your academic goals. Based on your scores, you may need to take additional general studies course(s) along with the general studies courses required for your program.
Several options for waiving the ACCUPLACER test are available; view the waivers here.
Learn more about placement tests and how they are used at Western: Placement Testing.