Certificate
Digital marketing is a key strategy for promoting a company's product or service. This certificate program provides an introduction to marketing principles and explores methods for developing an online strategy. As part of your coursework, you will conduct actual marketing research for a business and use it to create and implement a promotional plan.
The Digital Marketing Specialist program is an embedded credential within the Digital Marketing associate's degree. Complete the certificate for an entry-level position, or continue your education for more earning potential.
The program is offered in several flexible delivery methods, including face-to-face one evening per week, at our La Crosse campus or our regional locations, or completely online.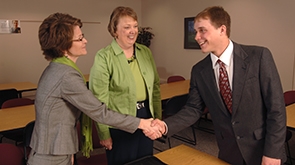 College Requirements
High School transcript or GED/HSED
Program Requirements
Western Technical College uses ACCUPLACER, a computer-based, online assessment that measures your abilities in writing/sentence skills, reading comprehension, and arithmetic. This information will be used to place you in courses that best fit your academic goals. Based on your scores, you may need to take additional general studies course(s) along with the general studies courses required for your program.
Several options for waiving the ACCUPLACER test are available; view the exemptions here.
Learn more about placement tests and how they are used at Western: Placement Testing.