Certificate
Not Financial Aid Eligible
The Sales Fundamentals program is designed to prepare you for a career in sales or customer service. This one-term, four-course certificate program teaches the skills that help you represent a business or service. You'll learn customer service and problem-solving, professionalism, selling principles, and business software in preparation for roles in which first impressions matter including inbound sales representatives and customer service professionals.
Completion of the course puts you on the path to a technical diploma in the Sales Representative Program, which can lead to an associate's degree in Sales Management if you choose. Either way, you'll be developing the skills that employers value.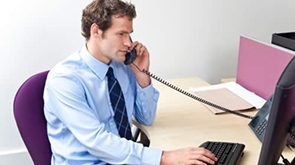 Sales and Related Workers
Most of Western's classes require the use of a personal computer or laptop, standard software, internet access, and other technology-related items.
If you do not have a personal computer or laptop, or if the one you have does not meet the following criteria, resources may be available. Submit a Student Resource Request using our online form.
Computer/Laptop Hardware
Smartphones are not recommended for completing assignments.
Chromebooks are not recommended due to issues with installing software that is needed for classes, such as Office 365.
Web camera with microphone (usually built into newer laptops or can be purchased separately) is necessary for online participation.
Software Needs
For detailed specifications, please review Technology and Software Recommendations for Most Classes on Western's IT Knowledgebase.
Campus Resources
Need Assistance?
Contact the Learning Commons! The staff are happy to answer questions, provide individualized assistance, and direct you to other supports as needed.