Certificate
Not Financial Aid Eligible
The Sales Fundamentals program is designed to prepare you for a career in sales or customer service. This one-term, four-course certificate program teaches the skills that help you represent a business or service. You'll learn customer service and problem-solving, professionalism, selling principles, and business software in preparation for roles in which first impressions matter including inbound sales representatives and customer service professionals.
Completion of the course puts you on the path to a technical diploma in the Sales Representative Program, which can lead to an associate's degree in Sales Management if you choose. Either way, you'll be developing the skills that employers value.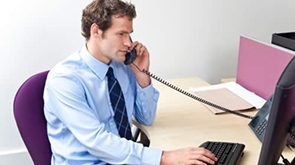 Sales and Related Workers
College Requirements
High School Transcript or GED/HSED
Program Requirements
Western Technical College uses ACCUPLACER, a computer-based, online assessment that measures your abilities in reading, sentence skills, and arithmetic. This information will be used to place you in courses that best fit your academic goals. Based on your scores, you may need to take additional general studies course(s) along with the general studies courses required for your program.
Several options for waiving the ACCUPLACER test are available; view the waivers here.
Learn more about placement tests and how they are used at Western: Placement Testing.